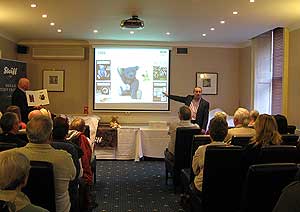 Ashby Bears Steiff Club Event
Ashby Bears Steiff Events have proven to be very popular.Our last Steiff event saw Ian Munro and Roger Skinner from Steiff, give a superb presentation on the anniversary of the elephant button in ear, together with a full run down of all the latest releases. Dave also gave a humerous roundup of how he and Angela got together and married 30 years ago, plus the story of how they started Ashby Bears back in 2001.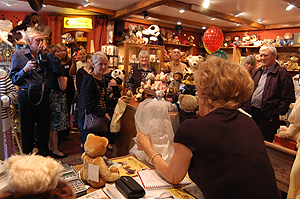 Steiff Evening
Ashby Bears have occasional Steiff evenings at our Ashby store.As an alternative to the formal Steiff event that we hold every year, we thought it would be good to have a casual event at our store, where keen Steiff collectors can mingle in a relaxed atmosphere.Our first Steiff evening went extremely well. All of the latest limited editions were on show and Roger Skinner from Steiff, was on hand to answer any questions. Give us a call, if you wish to be added to our Steiff evening invite list and stay tuned for our next one, which will take place on a weekday evening.
Charlie Bears Special Event!
YES, CHARLIE HERSELF WAS HERE. A huge amount of Charlie Bears Collectors came along to meet Charlie and William and to have their bears & bags signed by Charlie! William even signed the new 'William' bear which was a first for him. A great day was had by all.Charlie Bears Event Pictures!
Steiff Teddy Bear Specialists
Ashby Bears is a teddy bear wonderland and one of the largest teddy bear specialist dealers in the UK.
We opened the doors to Ashby Bears in 2001 to specialise in quality collectable gifts, cuddly teddy bears and animals.
Since the original teddy bear by Steiff in 1902, the world of teddy bears is always changing.
New design inspirations, keeps teddy bear collecting fresh and exciting.
we have been teddy bear and soft toy enthusiasts for over thirty years and love the history of a childs best friend.

Quality Gifts and Collectables