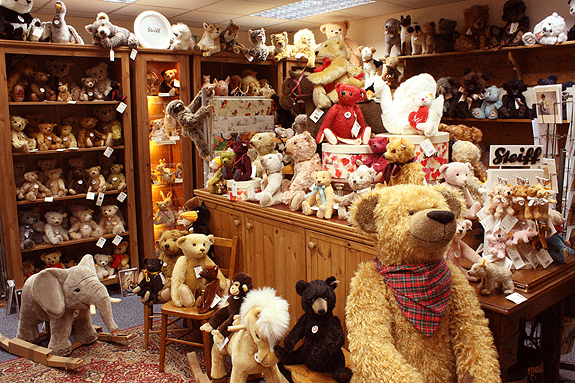 About Us
Launched in 2001, Ashby Bears are one of the UK's leading teddy bear specialists.Back in 2005, we are honored to have been selected by Steiff to be a Steiff Gold Button dealer, which is the highest status that can be achieved by the famous German company.We specialise in traditional style bears and animals from leading manufacturers and bear artists from the UK and Europe.
Since the pandemic, we are restructuring our premises, so the showroom will remain closed until further notice, however, click and collect is available from our front reception.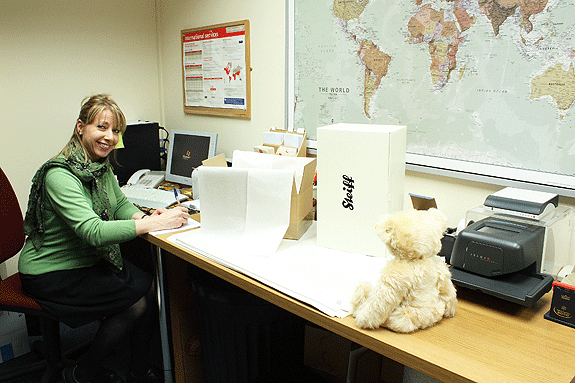 Our relocation in 2014
With our mail order sales as busy as ever, we were running out of room at our Ashby store, so in late 2014, we moved to our new Teddy Headquarters, just outside Ashby de la Zouch, between Ravenstone and Coalville, which is about five miles away from our old store. We now have a much better facility to handle our online orders, so that our bears are packaged as safely as possible, to begin their journey to their new owner.Our Bears, animals and collectibles, are dispatched throughout Europe, plus the USA, Canada, Australia and New Zealand.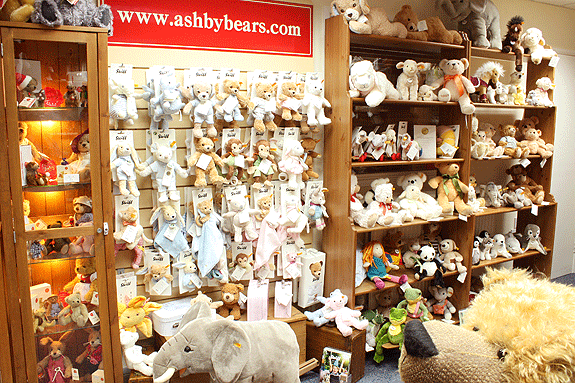 Sewn by hand from the softest materials available, this fashion-forward line of products by Steiff, is of the absolute highest quality. Doesn't your baby deserve the very best?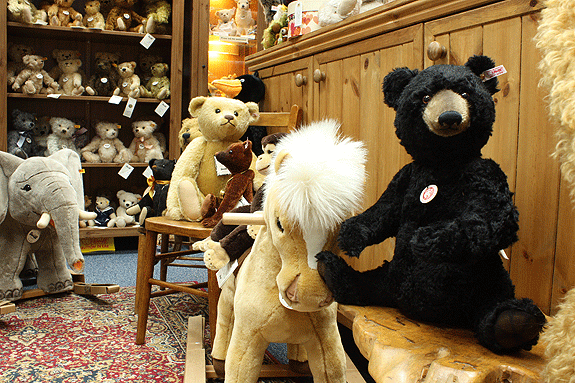 Each of our Steiff riding animals has a hand made inner steel frame, strong enough to support 330 lbs. and features solid beech wooden rockers, for quality and durability.
Gracing our antique settle, Charlie Bears enthusiasts are well catered for. We have a full display of wonderful plush Charlie bears together with the Isabelle mohair range.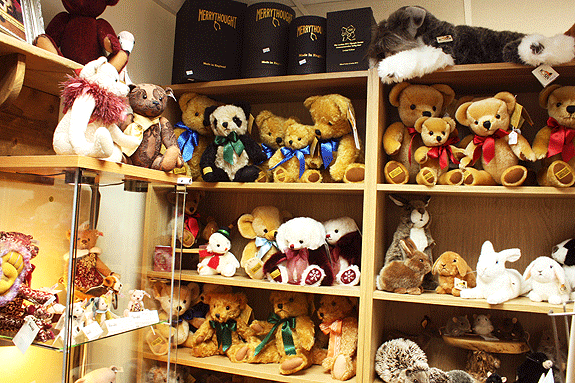 Hand made in England, Merrythought are England's premier soft toy makers, creating their fine toys at their teddy bear factory in Ironbridge Shropshire, since 1930!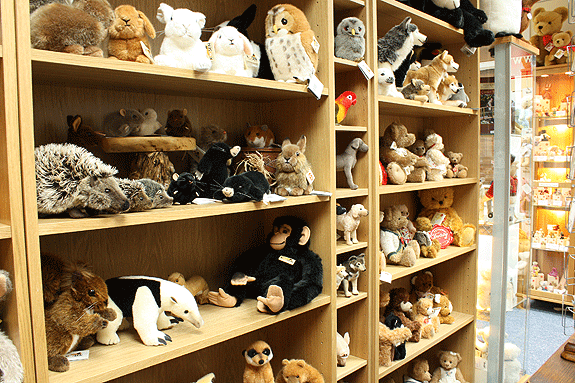 The fabulous range of realistic animals by Kosen, are all hand made in Germany, with superb attention to detail. Many of the Kosen animals, have received highly decorated design awards, making them extremely desirable toy animals.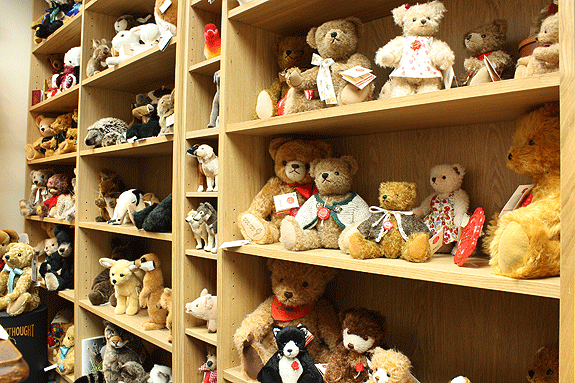 We are also proud to offer the incredible range of Teddy Hermann bears and miniatures. Bernhard Hermann founded this family business back in 1912. Since then three successive generations have sought to continue and develop the very special art of Bear making that has given Hermann Teddy Original it's enviable reputation.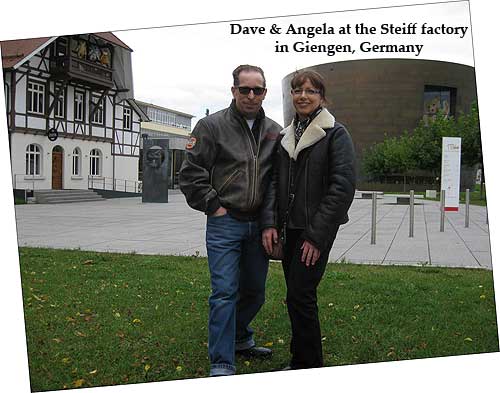 Many years ago, we were proud to be appointed, Steiff "Gold Button" dealer status, of which, there are only around a dozen dealers of this stature, in the UK.We pride ourselves in offering the premium brand in the industry and always try to follow Margarete Steiff's motto, "For our children, only the best is good enough".With this in mind, we aim to have the best available, of any brand, in childrens soft toys.Having been to the Steiff factory, we have witnessed first hand, the rigorous testing carried out by the Steiff laboratories, to acheive and lead the way, in textile safety for childrens soft toys.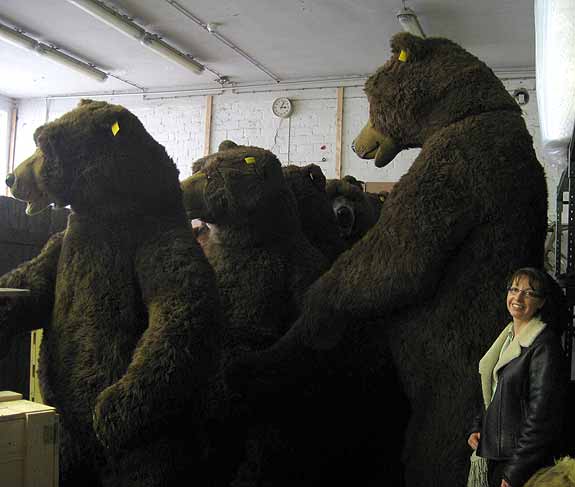 Found this picture of our Angela with some 10ft grizzly bears. Shot taken at the Steiff factory in Giengen, Germany, when we were at the Steiff Academy. Awesome bears and Yes, that really is Angela in the bottom right corner.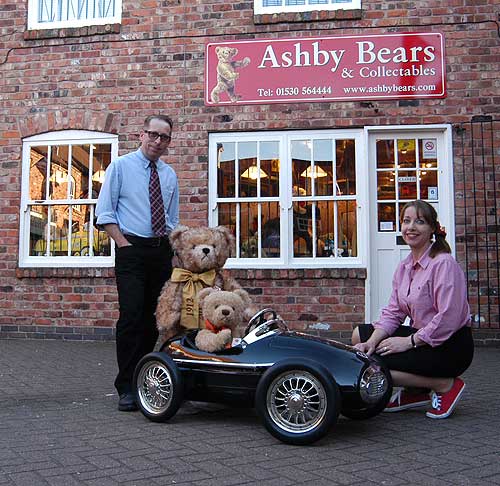 David and Angela pictured outside of their old store in Rushtons Yard, Ashby de-la Zouch, Leicestershire. This is where Ashby Bears was established in 2001, before moving in late 2014.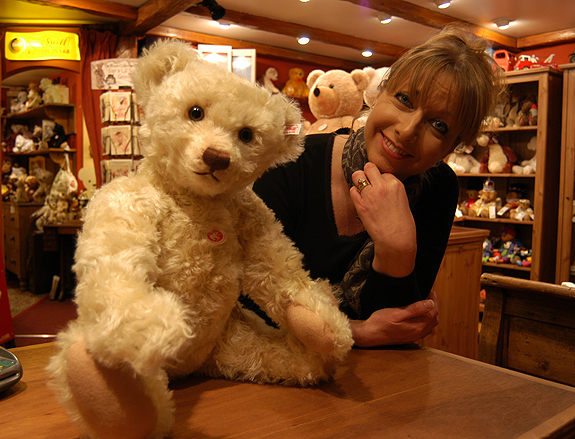 angela & Sunny
A quick comment from Dave...It is Angela's hobby which got us into Bears in the first place. I thought that having our own store would stop her buying so many bears.I was wrong!.......Dave