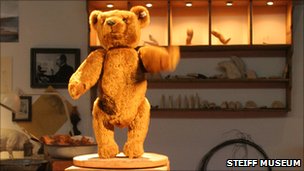 The great teddy bear shipwreck mystery
In 1903, 3,000 teddy bears were sent by ship from Germany to America only for them to disappear. Some claim the bears were the first ever made and would now be the most valuable in the world. So what happened to them? The BBC has the answer!

See the mystery of the missing bears at BBC News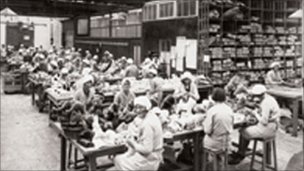 Britain's last surviving teddy bear factory
Although teddies were invented in Germany and the US in 1902, it was the British who took the teddy bear to their hearts and opened bear making factories all over the country.

Full story at BBC News.

Steiff
Steiff are the most famous name of all teddy bears. Founded in 1880 by Margarete Steiff, they celebrated their 125th anniversary in 2005. Several old Steiff bears have been sold at auction for record breaking figures over the last 12 years, with the now famous 'Teddy girl' fetching a record breaking £110,000. Several bears have since surpassed this figure. Steiff are not only famous for Teddy bears, as toys and animals have always played a big part in the Steiff company since the company began. The high quality of Steiff products still remains in all of their products, from the keyrings, right up to the popular classic teddy bears, animals and limited edition pieces.
View Steiff Teddy Bears

Clemens
A superb range of bears and friends made in Germany since 1948. Today the Clemens company is a well-known plush animals company in Germany. Already since the beginning the teddy bears and animals have conquered many children's hearts in Germany and abroad. Hans Clemens, the founder of the company is in well-deserved retirement for some years - after passing on the management of the company to his son Peter. He is however still keeping a suspicious, but very kind-hearted eye on the continuation of his work.
View Clemens Teddy Bears

Teddy Hermann
Hermann Teddy Original - those bears with the famous red seal -come from a long line of family-made European Teddies. It all began back in 1907, in the remote village of Neufang, Germany, where a fellow by the name of Johann Hermann persuaded his family to join him in making Teddy Bears.
View Hermann Teddy Bears

Boyds
Based in Gettysburg, Pennsylvania USA, The Boyds Collection have gone from strength to strength since their founder Gary Lowenthal started the company back in 1979.
View Boyds Teddy Bears

Brooklin White Metal Models
The Brooklin collection is an evolving series of 1:43 scale models from America's automotive past - perhaps the most influential cars in the world. These models are precision cast in heavy white metal from handcrafted patterns and painted individually in authentic colours with chromed brightwork, white wall tyres where applicable and simulated glass windows. The Brooklin Collection represents over four decades of the American Automotive industry with new models being introduced on a regular basis and are acknowledged as being the best value-for-money, hand built collectables in the world.
View Brooklin Models

O'Neill Vintage Ford
This is our Sister company, founded by David, the owner of Ashby Bears. O'Neill Vintage Ford specialises in vintage car parts for old Fords from 1928 up to 1948. David's passion for old Fords has brought him to the forefront in supplying parts to owners of these fabulous cars. You can also view books, gifts , model cars, plus a great range of ladies handbags with a difference, all the way from the USA.
Go to O'Neill Vintage Ford
Steiff Teddy Bear Specialists
Ashby Bears is a teddy bear wonderland and one of the largest teddy bear specialist dealers in the UK.
We opened the doors to Ashby Bears in 2001 to specialise in quality collectable gifts, cuddly teddy bears and animals.
Since the original teddy bear by Steiff in 1902, the world of teddy bears is always changing.
New design inspirations, keeps teddy bear collecting fresh and exciting.
we have been teddy bear and soft toy enthusiasts for over thirty years and love the history of a childs best friend.

Quality Gifts and Collectables