Now in stock! the new limited edition Donald Duck and Daisy Duck.Order them at Ashby Bears right now!Steiff New Releases
Check out the new limited edition 1928 replica Petsy by Steiff. A wonderful bear this one is and a Limited edition of only 928 pieces worldwide.Available to order Here
The New 2017 Cosy Year Bear, now at Ashby Bears.Click Here to view the Cosy Year Bear
Meet Dumbo, Mickey, Speedy Gonzalez and Daffy Duck.These are new additions to the new Steiff licenced releases for this Winter season. Available to order Here
Steiff Autumn 2016 New Releases are announced
Just launched are the latest new Steiff releases for Autumn 2016

Meet some superb pieces for the new season of Steiff.They are all available to pre order now.Steiff New Releases
Check out the new limited edition Pluto by Steiff. This beautiful hand made piece, in yellow mohair, is one way jointed and wears the white ear tag, signifying this item as a Steiff limited edition, together with the famous gold plated Button in Ear. Limited edition of only 2000 pieces worldwide.Product details: embroidered eyes,synthetic filling material, non growler, size 19cm. Comes boxed, together with a numbered certificate of authenticity. Available to order Here
Celebrate Queen Elizabeth II 90th Birthday, with this wonderful Steiff Queen Elizabeth II 90th Birthday Bear. Made from the finest light blond mohair, she is fully jointed and has a growler. Our Queen Elizabeth II teddy bear is a limited edition of 1,926 pieces and features the trademark Steiff gold-plated "Button in Ear". Size 28 cm.Supplied boxed with a certificate of authenticity.Available to pre order Here
Check out our special offers at Ashby Bears Here
Check out the latest Baby gifts, just arrived at Ashby Bears.See them all Here
Check out our special offers at Ashby Bears Here
A wonderful opportunity to purchase a huge 60cm limited edition Steiff Paddington Bear. This beautiful hand made piece, in chestnut mohair, is fully jointed and comes complete with his opening suitcase, containing his marmalade and sandwiches.Available to order Here
Here's the latest collectable Winnie the Pooh by Steiff , ready for a new or existing generation of fans.With his height being 20cm sitting, he's ideal for any room in the home, with the added bonus of being a Musical bear, with a traditional wind-up mechanism, he plays the melodie, 'Winnie the Pooh'.At only £129.00 for a limited edition of 2000 pieces he's ideal also for those extra special gifts, like Christenings.We all love Winnie, he's just a loveble 'Silly Old Bear'.Available to order Here
2016 marks the ten year celebration of Fynn, Charly and Lotte teddy bears by Steiff. To celebrate this special year for this wonderful threesome, Ashby Bears have some special mohair version of these wonderful characters for you.Available to order Here
We now have the official pictures for the new limited edition Tom and Jerry.you can pre-order them at Ashby Bears right now!Steiff New Releases
Yes, the Steiff 2016 picnic family is now complete.Available to order Here
Steiff Vinzenz has arrived.Order Vinzenz here.
Steiff for Baby
See the Steiff Baby Collection at Ashby Bears.Click Here to view the Steiff for Baby
End of season Clearance Sale!
We are making room for all of the Spring New Releases, so check out our SALE items now at Ashby Bears.View the Special Offers Section
Yes, the Steiff 2016 British Collectors Bear has arrived and is a beauty.Available to order Here
Steiff Spring 2016 New Releases are announced
Just launched are the latest new Steiff releases forSpring 2016

Meet Pluto, Daffy Duck, Daidy Duck plus some superb pieces for the new season of Steiff.They are all available to pre order now.Steiff New Releases
Miniature Sherlock Holmes has arrived
Following on from the 2015 Sherlock Holmes b ear, we now have this outstanding miniature version, made in mohair.Click Here to view the sherlock Holmes Collection
Riding Animals
See the Steiff Riding animals at Ashby Bears.Click Here to view the Riding animals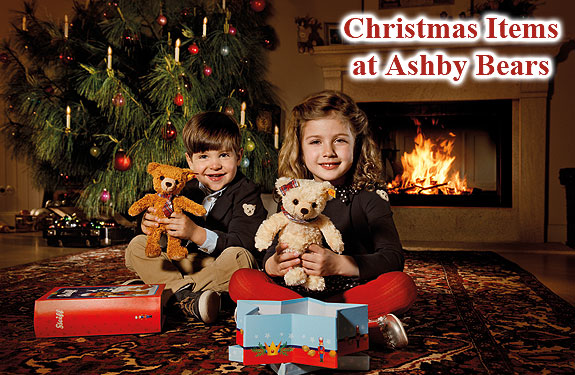 Christmas Items at Ashby Bears
check out our Christmas themed items now at Ashby Bears.Click Here to view the Christmas Section
Sherlock Holmes has arrived
New for 2015 is this fabulous interpretation of Sherlock Holmes, now at Ashby Bears.Click Here to view the sherlock Holmes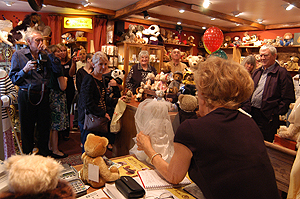 Ashby Bears Steiff Weekend 28th - 29th March 2015
We changed things around a little this year for our 2015 Steiff Event.We held our 'Steiff and Sandwich' Event over the weekend of Saturday 28th & Sunday 29th March 2015.This was a more casual affair, so that people could choose which day was convenient for them to visit. For the whole weekend, we displayed samples of the New Steiff 2015 Spring, Limited Editions, of which many were already in stock at Ashby Bears and available to purchase on the day. Mr Roger Skinner, the National Sales Manager from Steiff was here to chat to like minded collectors and from the feedback received, everyone seemed to enjoy the informal atmosphere of the event.
New Paddington limited edition launched.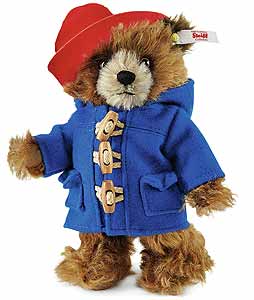 Due to the popularity of our Steiff Paddington Bear launched at the end of 2014, many collectors missed out on this fabulous item.Meet our new 2015 limited edition. Smaller in size than the initial version, he is just as desirable and will sell out very quickly.Pre-order now to avoid dissapointment.
Teddy Bears
We offer the full range of Steiff Teddy Bears, Charlie Bears, Gift Teddy Bears, Childrens teddy bear Gifts, Baby teddy bear Gifts, specialist collectable teddy bears, Teddy Bear Toys & gifts online.

You can purchase our full range of collectable bears online using our secure shopping site or visit us, the regions largest teddy shop in Ashby de-la Zouch, Leicestershire UK.We try to offer one of the UK's largest selections of bears to cater for all your requirements. If we do not have it in stock, we will do our best to get it for you. You can take a look at our testimonials page to see some of the great comments that we get for our keen enthusiasm and customer service.Shown is the Limited Edition Steiff British Collectors & Jubillee BearAll the latest editions are all now online at Ashby Bears!
Angela meets a 10ft grizzly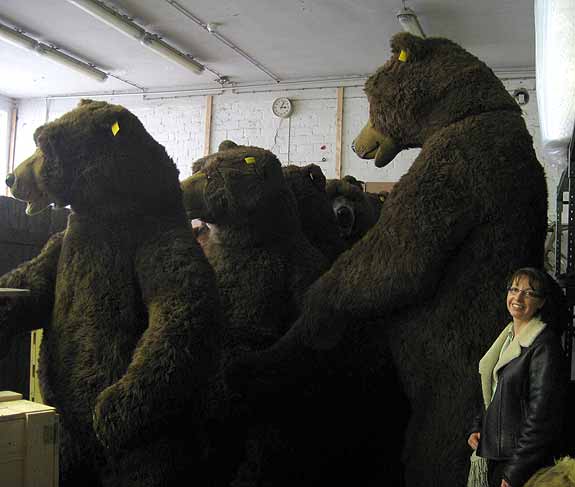 Found this picture of our Angela with some 10ft grizzly bears. Shot taken at the Steiff factory in Giengen, Germany, when we were at the Steiff Academy. Awesome bears and Yes, that really is Angela in the bottom right corner.
Mickey and Minnie have now arrived in stock and here are the official pictures of this popular release. The most famous Disney characters, Mickey & Minnie mouse.See Mickey Mouse
Yes for a trial period, we have re-introduced free delivery to UK mainland addresses.A few exclusions apply, but most of our items are now free delivery.These items do not qualify for free delivery, Brooklin Models, Club kits, oversized items and some reduced special offers.
One in 10 adults still takes a teddy bears to bed
BBC News

A new survey on bedtime habits has suggested that one in 10 adults still takes a teddy bears to bed while at least one in 20 leaves the light on.Full Take a Teddy Bear to bed story!
Ted the movie
The New movie "Ted is real" has just been released and can be seen at a cinema near you.

Ted starring Mark Wahlberg, Mila Kunis, Giovanni Ribisi, Seth MacFarlane as Ted in the live action CG animated comedy.The trailer looks incredibly funny. You can view the Ted is Real movie trailer here!(Note: there is an age restriction on the trailer).
The Royal Mail Feature Ashby Bears
We are please to announce that The Royal Mail have carried out a case study on Ashby Bears and how we use their services.Check out the full story!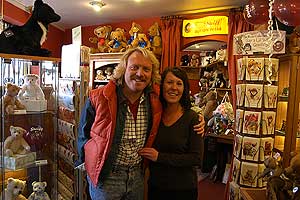 Keith Lemon pays us a visit!
TV Personality Keith Lemon popped into Ashby Bears today, on a quick break from filming his new television series.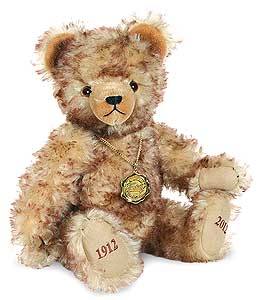 Teddy Hermann - 100th Anniversary releases
2012 sees the 100th anniversary of Teddy Hermann Original.This famous German company have released some fabulous commemorative editions and you can see them here at Ashby Bears.Teddy Hermann Section!