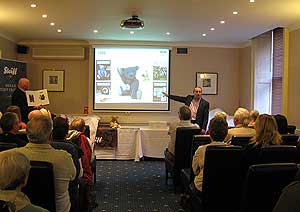 Ashby Bears Steiff Event - Sunday 4th May 2014
Yes, our next Next Steiff event is on Sunday 4th May 2014

Our last Steiff event saw Ian Munro and Roger Skinner from Steiff, give a superb presentation of all the latest releases. Dave also gave a humerous roundup of how he and Angela got together and married 29 years ago, plus the story of how they started Ashby Bears back in 2001.Book your tickets Here!
We finally have the official pictures of the forthcoming release of the most famous Disney characters, Mickey & Minnie mouse.See Mickey Mouse
Deans Acrylic 2013 releases now online
2013 sees the 110th anniversary since Deans was formed back in 1903.check out the these new 2013 editions!Deans New Releases
Just launched are the latest new Steiff releases for Autumn 2013.There are some superb pieces including Mickey and Minnie Mouse.They are all available now! Steiff New Releases
Yes for a trial period, we have re-introduced free delivery to UK mainland addresses.A few exclusions apply, but most of our items are now free delivery.These items do not qualify for free delivery, Brooklin Models, Club kits, oversized items and some reduced special offers.
Charlie Bears Pre ordering Stopped!
Sorry folks, but once again, we have had to stop all charlie Bears pre-ordering.Unfortunately, due to many customers ordering the same bear from several shops, a lot of customers are missing out.Keen collectors may want to subscribe to our email bulletins for news of new deliveries. Click on the "Email News" Sign up link on our web site right banner.Charlie Bears main section!
One in 10 adults still takes a teddy bears to bed
BBC News

A new survey on bedtime habits has suggested that one in 10 adults still takes a teddy bears to bed while at least one in 20 leaves the light on.Full Take a Teddy Bear to bed story!
Ted the movie
The New movie "Ted is real" has just been released and can be seen at a cinema near you.

Ted starring Mark Wahlberg, Mila Kunis, Giovanni Ribisi, Seth MacFarlane as Ted in the live action CG animated comedy.The trailer looks incredibly funny. You can view the Ted is Real movie trailer here!(Note: there is an age restriction on the trailer).
The Royal Mail Feature Ashby Bears
We are please to announce that The Royal Mail have carried out a case study on Ashby Bears and how we use their services.Check out the full story!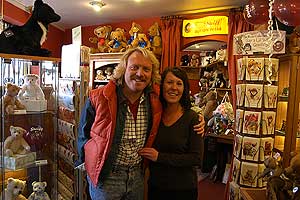 Keith Lemon pays us a visit!
TV Personality Keith Lemon popped into Ashby Bears today, on a quick break from filming his new television series.Our Tracey managed to get a photo opportunity.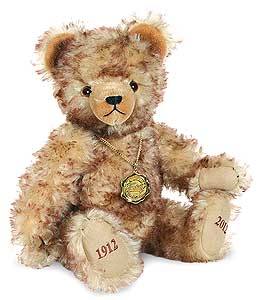 Teddy Hermann - 100th Anniversary releases
2012 sees the 100th anniversary of Teddy Hermann Original.This famous German company have released some fabulous commemorative editions and you can see them here at Ashby Bears.Teddy Hermann Section!